This site uses cookies. By continuing to use this site, you are agreeing to our use of cookies.

Learn More.
These are the changes and fixes in this patch:

- Fixed several issues in the EAC plugin
- Changed EAC server logging settings
- Added new confirmation window when getting kicked from a server displaying the reason for the kick
- Fixed RCON plugin being disabled
- Fixed RKG-3 not doing damage to vehicles
- Fixed FOB takedown ticket cost logic being inverted
- Fixed a StopReplicating crash by pulling in the fix from UE 4.15
- Fixed constraint array issues by pulling in fixes from UE 4.15
- Allow Linux servers to use directories that have spaces in them
- Fixed incorrect impact effects after penetration
- Fixed performance on issue on penetration exit holes
- Fixed Linux compiler issues
- Fixed Yehorivka conquest repair stations not repairing
- Fixed hilltop buildings so windows are enterable again
- Fixed some fences that were not penetrable
- Renamed texture streaming setting in the graphics menu and inverted the logic so that people who refuse to read don't turn texture...
Just a quick heads up, we are aware of the server connectivity issues at the moment.
We are working diligently with EAC to fix these issues and get a hotfix out as soon as possible.
Thanks for sticking it out with us and feel free to share this with others who are having similar issues.
Continue reading...
Community Match - PRTA vs. Russian Reality
__________________
PRTA Presents:
PRTA vs. Russian Reality
|
17:00 PRT, 25th MARCH 2017
​
Server:

TBA


Server Password:

TBA


Map:

Wanda Shan AAS Std


Time/Date:

17:00 PRT, 25th MARCH 2017


Signups: link

​
The Situation...

Hi Squaddies,
The day has finally arrived. After much tribulation we present to the world Alpha 9 of Squad! It is now available via Steam so be sure to update before playing.
In addition to upgrading to Unreal Engine 4.14, this update comes packed with a whole lot of content related additions including new vehicles, map expansions, gameplay changes and balance tweaks.
Version 9 is now available via Steam.
Full Changelog
Gameplay
Added Minsk 400 Motorcycle, BRDM-2 Scout Car and MT-LB PKT APC to the Insurgent vehicle pool
Added BTR-80 APC, BRDM-2 Scout Car, MT-LB NSVT APC and MT-LB 30mm Cannon IFV to the Militia vehicle pool
Added BTR-82A IFV, MT-LB NSVT APC, MT-LB 30mm Cannon IFV and Ural 4320 truck to the Russian vehicle pool.
Added Stryker ICV to the US Army vehicle pool
FOB Radio Hub no longer creates a spawn point
Added a new FOB Deployable, the 'HAB', which is basically a spawn point. US Army and...
One-Life Event - Broken Tension
__________________
PRTA Presents:
One-Life Event - Broken Tension
|
18:00 PRT, 18th MARCH 2017
​
Server:

PRTA | EU - OneLife Event


Server Password:

onelife


Map:

Burning Sands AAS Alt


Time/Date:

18:00 PRT, 18th MARCH 2017
​
The situation
Following a month-long agreement with the local MEC commander, the B Company...
​
This small update provides additional fixes and changes to improve the game since the PR:BF2 v1.4 launch.
v1.4.6.0 is available now!
PR:BF2 v1.4.6.0 Changelog
(2017/March/07)
-----------------------
VEHICLES:
Fixed BMP-3 bow MGs shooting straight for other players.
Fixed FSA logistics van.
Fixed Stormer smoke ammo counter.
Fixed not being able to switch back from POV cameras in some choppers.
Unlocked _bf2 vehicles for humans.
Updated Apache to have 60° down angle and better align the sight.
Updated Puma to have grey instead of green thermals.
Updated thermals to make vehicle dust effects "cold" and semi-transparent.
WEAPONS:
Fixed CAS small caliber weapons having way too much splash.
Fixed SVD sight alignment.
Updated AAV missiles to have less recoil.
Updated GLATGM to have less recoil.
Updated MG3 MMG ammo to 150 from 120.
LEVELS:
​
Hello PRT Community!
From the second Battle of Operation 3, one team has emerged victorious!
Vadso saw a beautiful balance of tense firefights and careful maneuvering, both teams trying to read and adapt to the others plans. APN with a well executed deployment took the lead early on, but EMC's strong advance slowly pushed back APN's frontline and drained their tickets until EMC pulled ahead. EMC were caught off guard however by APN's daring and well executed move to out-cap, but reacted in time to secure their objectives, finally taking advantage of the gap in APN's defenses left by the assault to close out the round with 92-0 for EMC. As always, the full battle can be viewed
here
.
...​

Hi Squaddies,
As we're rushing to squash the last few bugs and tweak in some more optimisation improvements we want to get you, the player, as informed as possible on what to expect in Alpha 9.
New Vehicles
Reference sheet for existing vehicles

Insurgents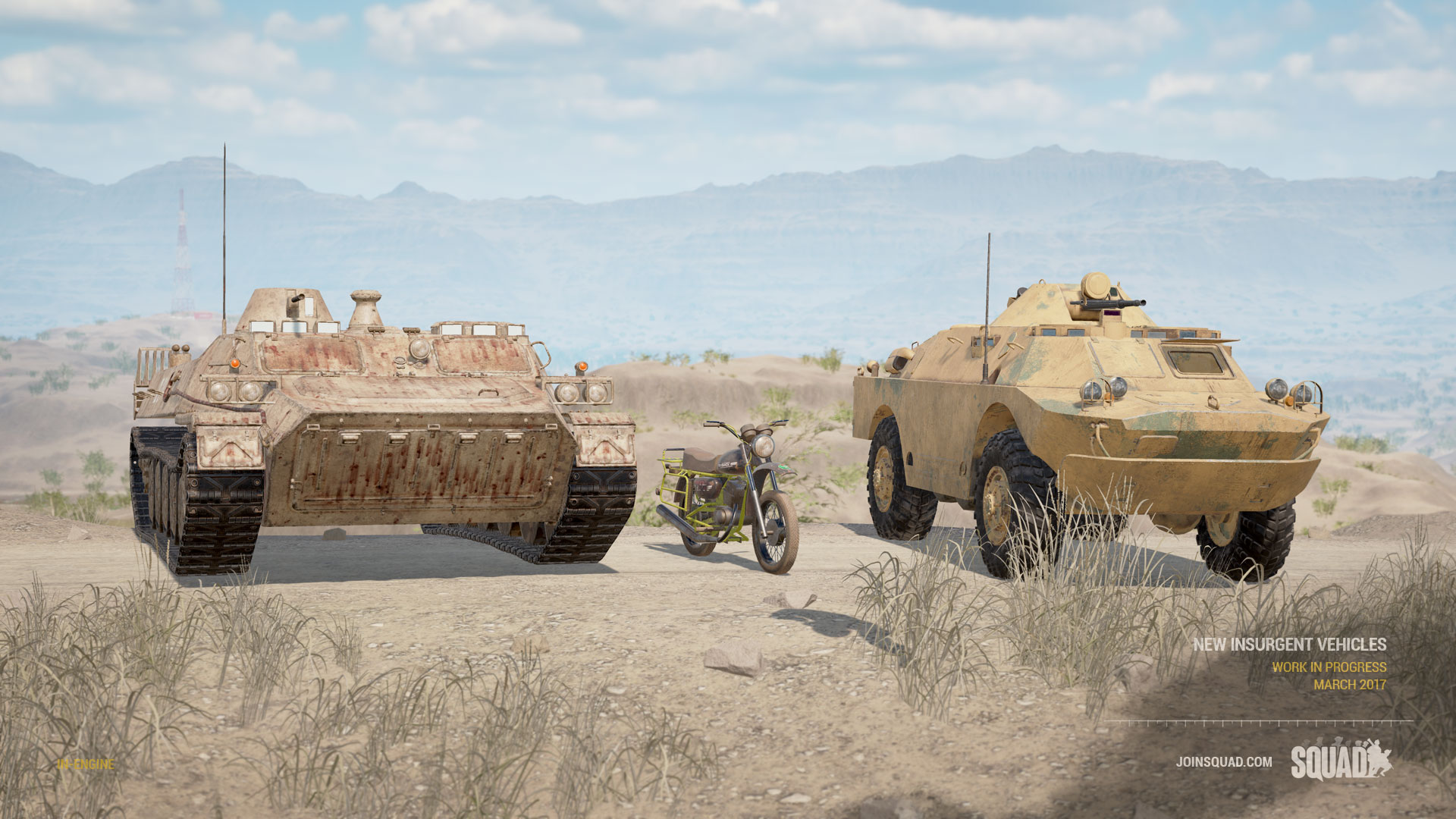 Motorbike
Seats two people and is rather expendable. This tool will allow your scouts, spotters and ambushers to get to more places, quicker. With the highly anticipated mines and IEDs right around the corner, now is the time to...
PRTA Presents: OneLife on Muttrah | [ The Video]
​
You didn't miss it, did you?

Once again a notoriously frightening OneLife Event created by "I'll-test-in-the-evening" Arnoldio took place.
It has been a ball shaking experience again and we know you can't wait to see some footage from it. Of course this match has been recorded by deviro. This time it's going to be double POV with additional footage made by Siltics.

We would like to thank everyone who helped realizing this great event. Special thanks goes out to our tech guys Sloan and tobi-the-fraggel and our whole admin team. This wouldn't be the event it is without your contribution.

In order to keep events like this happening regularly and to simply aliment our precious and beloved services, aka servers and software...